Trusted expertise at your fingertips
FromCounsel provides easily accessible, in-depth and actionable expert legal knowledge through our knowledge, interactive e-learning and automated document services. With our robust multi-stage review process, fee earners are able to treat our content as a reliable single source of truth. FC Corporate Knowledge is now used by over 90% of the UK's leading law firms, the legal arms of the Big Four accountants and over 160 law firms in total.
What sets FromCounsel apart?
Our business model utilises our commitment to excellence; we deliver the highest quality content, provided by the industry's foremost practitioners, on a market-leading platform. Our legal knowledge underpins all our products and services, whether in the form of Q&A, documents or training.
Unrivalled Exptertise
Our in-depth content is written and maintained by barristers from leading Chambers, and senior knowledge lawyers from top City firms, following a robust multi-stage editorial process.
The Answer
Our Q&A will present you with the answer to your question; we won't point you to multiple sources so that you have to derive the answer. This generates significant time and cost savings on research and reduces the need for Counsel's opinion.
No Grey Areas
Unique 'editors' views' provide the answer to questions where the law is currently unclear. Your team can quickly resolve matters which would have otherwise required significant time input. Answers are designed with practical application in mind.
Easy Access to Information
The Q&A structure of our detailed commentary and advanced search provides an excellent user experience with clear navigation to other related Q&A, seamlessly integrated legislation and links to related resources.
Frequently asked questions
Who are the contributors?
We are proud to partner with practitioners working at the cutting edge of their fields. Our barrister partners are recognised by the legal directories and our customers as the 'go-to' experts in their practice area.
What are Editors' views?
These are the views of our contributors where an issue is not dealt with by statue or decided case. We rely on our contributor partners' combined wealth of experience to tackle the 'grey' areas and deliver practical answers to the complex questions that traditional resources tend to fall silent on.
Who is FromCounsel suitable for?
Our platform meets the needs of legal practitioners in private practice and in-house. It is suitable for all levels of experience, from trainees through to partners and knowledge lawyers. It is also a hugely valuable resource for company secretaries, directors and legal practitioners in all industries.
How does FromCounsel's offering differ from other platforms?
We give you the answers to your questions in one place, with greater accuracy and credibility and within a fraction of the time of any other solution. Our broad and authoritative 'Question & Answer' database is supported by a fully maintained legislation and daily news service.
Can't find the answer you are looking for?
Tim Matthews
Corporate Partner, Moore Barlow
"Having access to FromCounsel enables our team to quickly and effectively deal with the queries that can arise when advising clients over the lifetime of their business. The resource is extremely valuable to our fee-earners, even more so in the context of a team undertaking high quality work without the support of knowledge lawyers."
Matthew Cowan
Head of Corporate at Bracher Rawlins
"FromCounsel is my go-to resource for corporate law matters - the quality and depth of analysis and ease of access to the information far exceeds any other knowledge service we have. Put simply, I wouldn't be without FromCounsel."
Robert Adam
Corporate partner at Baker McKenzie
"FromCounsel is a powerful, time-saving tool and very popular among the Baker McKenzie Corporate team. The comprehensive treatment and depth of analysis of English company law is excellent. We see the clear advantage of the service as being the expert team of barristers and PSLs behind it. Leading corporate lawyers need the best resources available to do their jobs, and FromCounsel is a hugely authoritative resource for corporate lawyers on company law."
James Waddell
Head of corporate at Stevens & Bolton
"FromCounsel has substantially reduced the time we spend researching corporate law issues, and associated cost. We feel confident in the analysis and views expressed due to the multi-stage editorial process involving leading barristers and experienced professional support lawyers. The content is highly accessible, and we greatly value the frequent insights from leading counsel through FromCounsel's Daily News service. We see the service as a key component of our resources, enabling us to provide a high quality service to clients."
Nigel Wellings
Joint Head of Corporate, London, Clifford Chance
"FromCounsel gives our lawyers authoritative, trusted commentary and analysis on company law issues, enabling research tasks to be undertaken efficiently to the highest level."
Georgie Blyth
PWC Partner: UK and EMEA International Business Reorganisations Leader
"FromCounsel has become our primary trusted know-how support resource. From the Daily Briefings to the in-depth online technical analysis, it provides our teams with first class technical support and real time analysis."
Charlotte Heiss
Group General Counsel and Company Secretary (former), RSA Insurance Group plc
"FromCounsel is a must-have resource for in-house lawyers who want support on company law issues. It provides us with analysis on a range of technical and practical issues to a level of detail and complexity simply not covered by other resources. I subscribe to a daily email which contains the latest news and developments and I find this invaluable."
Amos Carrington
Head of Legal, Low Carbon
"FromCounsel is an exceptional service for in-house lawyers dealing with corporate issues. The depth and quality of FromCounsel's commentary allows us to achieve greater autonomy as an in-house team and reduce reliance on external legal advice."
You may like these other pages
FC Corporate
Visit our Corporate page to find out more about our solutions for Corporate law.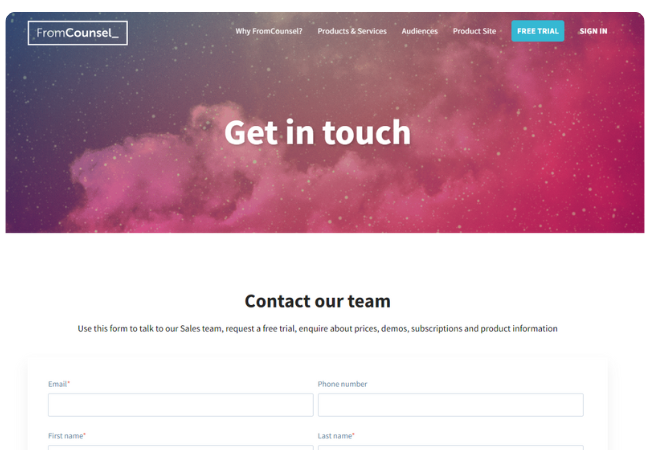 Get in touch
Contact us to request a demo or free trial to any of our products or services.
FC Employment
Visit our Employment page to find out more about our solutions for Employment law.