Welcome to the legal knowledge that really gives you answers
As a Human Resources professional, you play a crucial role in the successful functioning of your business. Navigating the complex legal landscape around employment issues demands the ability to quickly identify and answer a myriad of employment law questions. We understand that existing resources often cover the simple queries and it can be difficult finding exactly what you need.
In addition, seeking external legal advice is costly and time-consuming which is set against a challenging financial climate for most businesses.
What if you had answers to all your questions at your fingertips - even those where the law is unclear or untested?
What if you knew those answers came from an expert team that included barristers from a leading barristers chambers?
And what if that was available 24/7?
FC Employment Knowledge, at a glance:

Unrivalled Expertise
A unique collaboration of leading barristers and senior knowledge lawyers provide expert views and analysis in a Q&A format which gives you answers and solutions rather than resources for you to review.
Breadth and Depth
Fully maintained, detailed and practical Q&A produced using a robust multi-stage review process. Unique 'Milk bottle' filter allows users to select depth of answer required from 'skimmed' or 'full-fat' to suit the task at hand.
Trusted Authority
'Editors' views' pool the collective knowledge of industry experts into a reliable single-source solution which provides an answer even when that is not available elsewhere. The Daily News service provides practical, 'need to know' insights from leading counsel on key developments and the latest case law.
Ease of Use
Highly effective search and navigation tools, with integrated legislation, ensures speed of access to the information required to resolve any query.
Meet the experts
Cloisters Chambers
Cloisters is highly reputed for its expert knowledge in all aspects of employment law and is routinely instructed in groundbreaking cases at the leading edge of UK and European law. Recently described in the Legal 500 as the 'best set in London for employment work'.
Their award-winning employment team are widely recognised as experts in their field and skilfully set the agenda in employment law, appearing in almost all major employment litigation in the UK.
Request a demo of the FromCounsel Employment platform today
A fully maintained employment law knowledge service empowering you to better serve the needs of your clients and business.
Q&A: providing the answer to your questions. The research is done for you and our expert team take a view giving you the confidence to provide advice and take action,
Legislation: facilitating quick and easy access to the most up to date legislation,
News: ensuring you are always on top of developments impacting your work and can benefit from the analysis of leading experts on topical judgments and legal changes.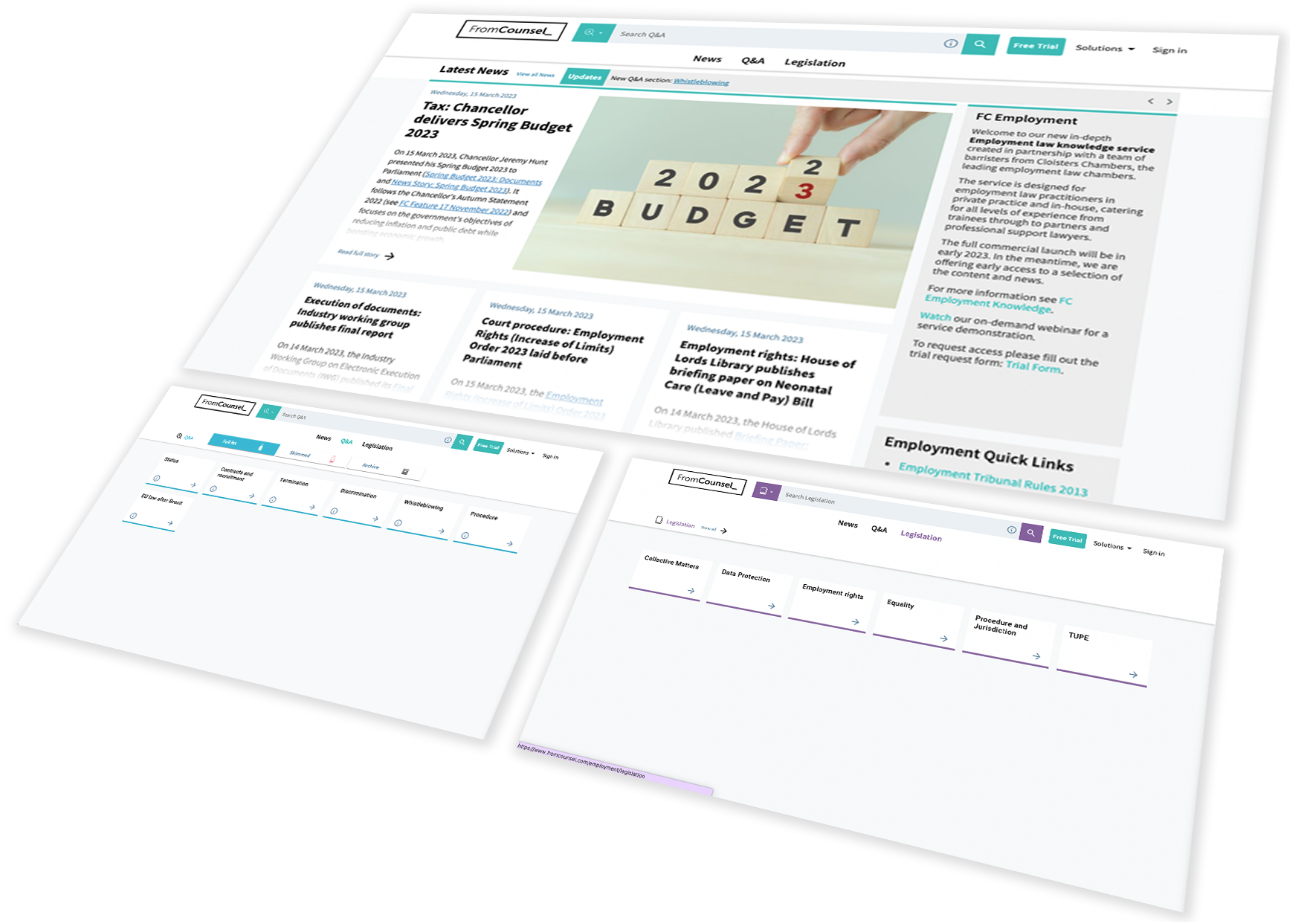 You may like these other pages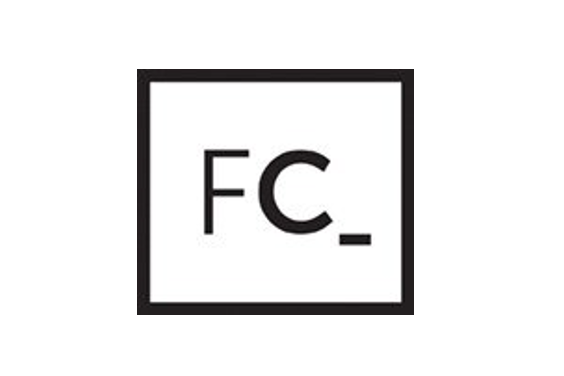 Why FromCounsel
What makes FromCounsel content unique? Visit this page to find out more.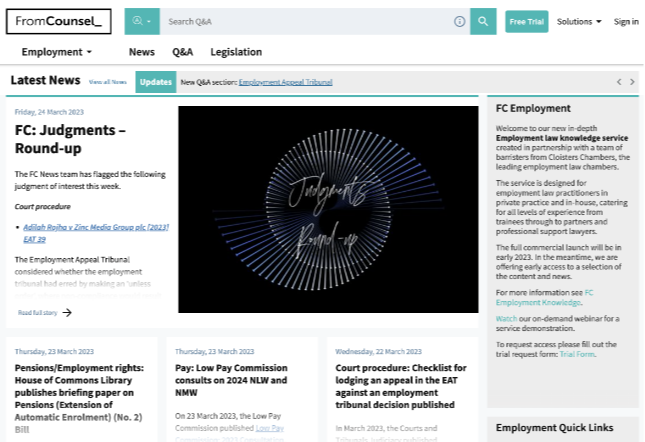 Employment site
Have a look around our product site to view areas we cover and the questions we answer.