Welcome to a better way of using legal knowledge
As in-house counsel, you play a crucial role in governance, compliance, risk, communication and strategic planning.  Navigating the complex legal landscape demands efficiency, accuracy and up-to-date knowledge. However, we understand that you don't have time to get bogged down in case law or piecing together legal research from various sources.
You want quick, commercially focused answers to your business' legal questions and more time to focus on delivering value to your organisation. Trusted by over 90% of the top 100 corporate law firms, FromCounsel's product suite will provide you with the tools you need to take you from legal advisor to strategic business partner.
FC for In-House Counsel
Subscribers gain access to a comprehensive suite of valuable resources. This includes FC Knowledge, FC Documents and Sparqa Legal, which provide a wealth of relevant Q&A, legal news updates, precedents and automated documents.
FC Corporate Knowledge
Comprehensive corporate law knowledge delivered in a Q&A style, including views from barristers at Erskine Chambers. Coverage of all aspects of company law with over 95 key areas including board matters, corporate governance, distributions and shareholder issues. News updates keep you informed on upcoming corporate governance and company law developments.
FC Documents
Extensive bank of document packs delivered via an intuitive and dynamic automated document production platform, covering the complete range of corporate actions and transactions. Facilitates fast and accurate document production meaning less time on paperwork and more time on strategic tasks.
FC Employment Knowledge
Comprehensive employment law knowledge delivered in a Q&A style, with views from barristers at Cloisters Chambers. Coverage of all aspects of employment law with over 50 key areas including discrimination, TUPE and whistleblowing.
Sparqa Legal
Companion service to FC, Sparqa Legal enables in-house lawyers and non-lawyers to tackle all areas of business law using a comprehensive 'plain-English' Q&A and automated legal document service.
Ready to take the next step? Request a demo or trial.
Contact us today to learn how FromCounsel can help you transform how you work. Welcome to a better way of using legal knowledge. Start today.
Answers to everything from the most straightforward to the most complex.
Updated daily, ensuring you have access to the most current information.
What our customers say
"FromCounsel has become our primary trusted know-how support resource. From the daily News to the in-depth online technical analytics, it provides our team with first class support and real time analysis. "
"FromCounsel is an exceptional service for in-house lawyers dealing with corporate issues. The depth and quality of FromCounsel's commentary allow us to achieve greater autonomy as an in-house team and reduce reliance on external legal advice."
"FromCounsel is a must-have resource for in-house lawyers who want support on company law issues. It provides us with analysis on a range of technical and practical issues to a level of details and complexity simply not covered by other resources. "
You may like these other pages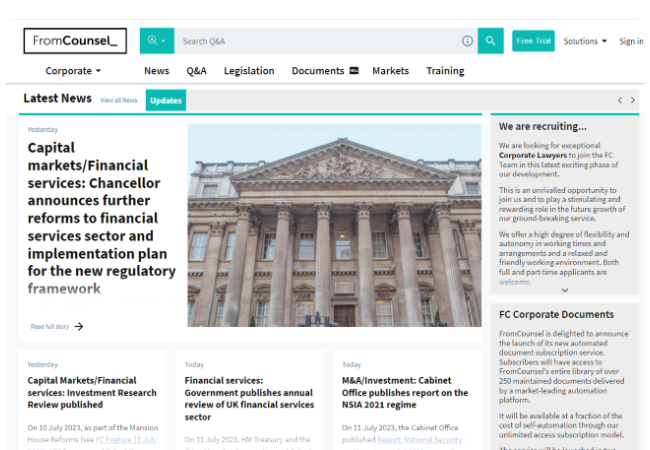 Corporate Site
Browse the Corporate knowledge site to view the questions we can help you with.